Open for freelance or contract
About Me
Strikingly motivated, pack of enthusiasm, goal oriented and highly driven individual.
Post my graduation from London, I started working for my startup which was a payment gateway company. During the startup jorney, I have gained rich and varied skill in the field of IT, management, leadership, and many more.
Being an avid learner and a passionate facilitator, I have also been training individuals on AWS.
When I'm not on the cloud, you would find me messing with some new tech or thinking hard at the pool table.
Building relation over money
Credentials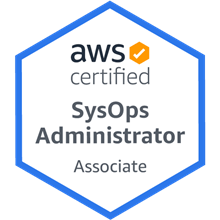 Experience
DevOps Engineer @ Modus Create, USA
Contract
Apr 2020 - Present
Migrated EKS cluster to latest available version for stage and production environment with zero downtime.
Writing GitLab pipeline for CI/CD automation.
Carried out cost analysis and reduced monthly AWS bill by nearly 30% by introducing Spot instances for dev environment, downsizing underutilised Elasticache & Aurora cluster.
DevOps Engineer @ Toptal, USA
Freelancer
May 2020 - Present
AWS & GCP Authorised Instructor @ Trainocate, India
Freelancer
Mar 2020 - Present
Cloud Consultant & Trainer
Freelancer
Jan 2018 - Present
Cloud Consultant @ Coditas, India
Contract
Oct 2018 - June 2020
Automated infrastructure deployment of centralized logging framework which includes Kinesis Firehose, S3, SQS, SNS, ELK, API Gateway and Lambda using Terraform.
Automated code deployment to EC2 instances using Jenkins Pipeline script in combination with AWS CodeDeploy.
Created nginx proxy with AWS NLB in-front for handling multiple (sub)domains.
Created Jenkins pipeline for automating deployment of containers on K8s.
Restricting user/service access to K8s cluster using custom RBAC ClusterRole/Role.
Writing YAML files for deploying micro-services on EKS. API resources used: Deployment, Service, Ingress, PV, PVC, StorageClass, ConfigMap and Secret.
Written custom fine-grained IAM policies for restricted access to AWS services.
Implemented advanced monitoring using Sensu Core and Grafana.
Deployed secure bastion server which logs each and every activity of users.
Performing Vulnerability assessment periodically using AWS Inspector.
Automated patching of Windows server with Important and Critical Updates during weekend using AWS Systems Manager.
Remote Contractor @ Eximchain, Singapore
Contract
May 2018 - June 2018
Worked on Golang, Terraform, Packer, Tencent Cloud, etc.
Founder & CTO @ Ezstrax.com
Full Time
Feb 2016 - Dec 2017
Successfully established and built a payment gateway company to help businesses collect e-payments with ease and without online presence.
Managed all aspects of business from initial scoping to final testing and delivery, along with taking company to revenue stage.
Designed & developed overall payment gateway application from scratch using Java.
Deploying application on AWS keeping HA and Security in mind.
Deployed WAF to protect against OWASP attacks.
Used Terraform to manage AWS services like VPC, IAM, EC2, Security Groups, RDS, Load Balancers, Auto Scaling and Launch Configuration and others.
Implemented CI/CD using CodeBuild, CodeDeploy, CodePipeline and GitHub.
Education
MSc in Computer & Network Security
Middlesex University, London
2014 - 2015
Bachelor in Computer Application
MITSOM College, Pune
2011 - 2014
Testimonials
Took extra caution to make sure that everything is working fine. He suggested some real good ideas to save me cost on AWS too. Completed work on time.

Bhagwandas Paliwal - CTO @ propstory.com
Great learning experience.. Super supportive trainer and staff as well.. Makes learning experience awesome!!!!

Rohan Bukka - Consultant @ Allscripts
Thanks to Ievision and Vimal Paliwal (AWS Trainer) who really helped us providing a good knowledge on AWS and Cloud computing.

Prem Satuja - Team Lead @ Allscripts
Vimal demonstrated great expertise on AWS and flexibility in his engagement with us. Bringing a practical approach to bear, he has proactively advised us on optimally choosing the right components.

Abhishek Challa - Co-founder @ 0.5Bn FinHealth Pvt Ltd